Saya bener-bener suka banget sama yang namanya
David Cook
,
the winner of American Idol Season 7 2008
. Sebenernya saya juga suka banget sama semua finalis AI Season 7 ini, bener-bener ga ada yang jelek, masing-masing punya ciri khasnya.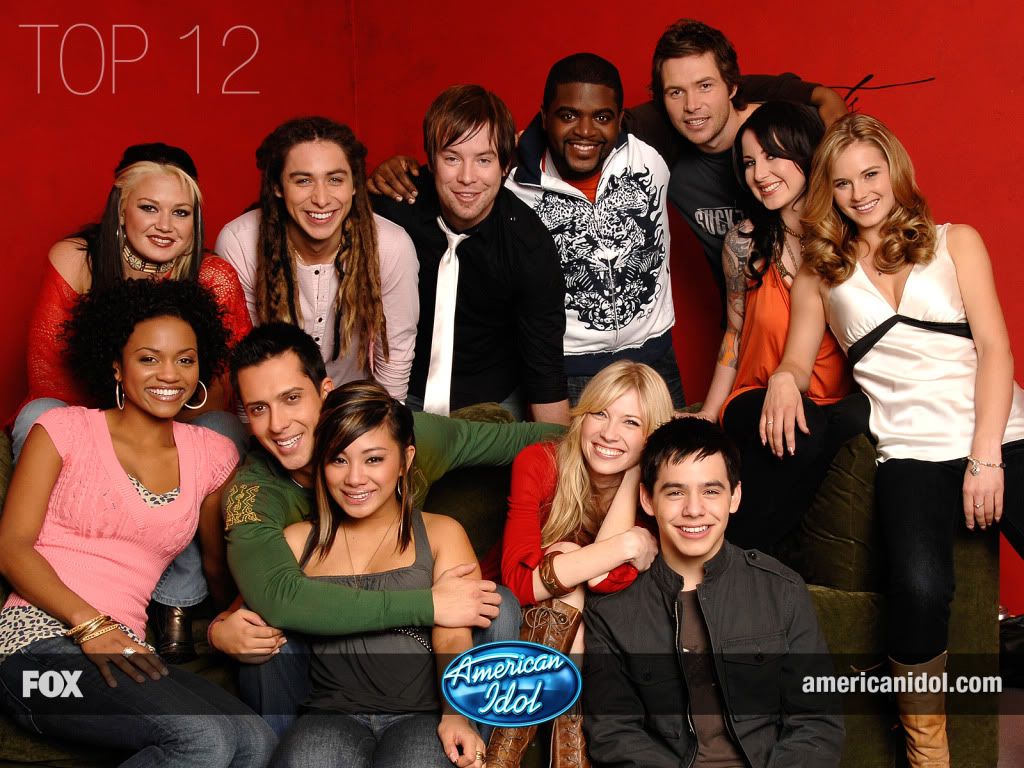 Top 12
Top 24
Yang paling keren, finalnya merupakan final yang termasuk paling fenomenal diantara semua Final American Idol lainnya.
The Battle of the Davids
. Antara
David Cook & David Archuleta
, waktu itu mereka berdua sama-sama punya pendukung yang hampir sama dan sama-sama selalu dapet Safe Result.
Banyak yang suka Archie & Cook, tinggal pilih lebih cenderung dukung siapa. Lebih suka yang tipe rocker macho atau unyu-unyu so sweet? dua-duanya sama-sama punya kualitas vokal yang mengagumkan. haha menggalaukan xD
However, the ratings rebounded for the season seven finale with the excitement over the battle of the Davids, and improved over season six as the third most watched finale. The strong finish of season seven also helped Fox become the most popular TV network for the first time since its inception.
Yah langsung aja deh, kelamaan intermezzo, intinya saya mau share video-videonya David Cook pas di American Idol dari sejak Audisi sampe jadi winner :D
*tapi seadanya koleksi saya aja lah ya. haha :p*
Oh iya, ini video-video dari channel youtube nya
David Cook Central
& beberapa channel lain, kualitas gambarnya bukan HD. Saya ada HD nya tp liat videonya klik link nya aja ya, soalnya videonya saya protect soalnya kalau di publish public ntar takutnya malah di-remove sama Youtube-nya. Videonya HD punyanya FOX soalnya. haha :P



AUDITION


Bon Jovi - "Livin' On A Prayer"






HOLLYWOOD WEEK


Bryan Adams - "Everything I Do (I Do It For You)"



*oh belum saya upload ternyata HD nya yang ini, nyusul ya klo sempet :3



TOP 50 & TOP 24 (12 Men) - Theme: 1960s






TOP 20 (10 Men) - Theme: 1970s


Free - "All Right Now"





TOP 16 (8 Men) - Theme: 1980s


Lionel Richie - "Hello"











TOP 12 - Theme: Lennon-McCartney


The Beatles - "Eleanor Rigby"











TOP 11 - Theme: The Beatles


The Beatles - "Day Tripper"








TOP 10 - Theme: Year They Were Born


Michael Jackson - "Billie Jean"








TOP 9 - Theme: Dolly Parton


Dolly Parton - "Little Sparrow"







TOP 8 - Theme: Inspirational Songs


Our Lady Peace - "Innocent"







TOP 7 - Theme: Mariah Carey


Mariah Carey - "Always Be My Baby"






TOP 6 - Theme: Andrew Lloyd Webber
Michael Crawford - "The Music of The Night" (Phantom of The Opera)







TOP 5 - Theme: Neil Diamond



Neil Diamond - "I'm Alive"




Neil Diamond - "All I Really Need Is You"







TOP 4 - Theme: Rock and Roll Hall of Fame



Duran-Duran - "Hungry Like A Wolf"




The Who - "Baba O'Riley"











TOP 3



Peggy Seeger - "The First Time Ever I Saw Your Face" --- Judge's Choice (Simon Cowell)




Switchfoot - "Dare You To Move" --- Contestant's Choice




Aerosmith - "I Don't Want to Miss a Thing" --- Producer's Choice







TOP 2 - Finale



U2 - "I Still Haven't Found What I'm Looking For" --- Clive Davis's Choice




"Dream Big" --- New Song (Written by Emily Shackelton)



Collective Soul - "The World I Know" --- Contestant's Choice












DAVID COOK'S WINNING MOMENT




*udah ah capek :p*

sources:


http://en.wikipedia.org/wiki/David_Cook_(singer)
http://en.wikipedia.org/wiki/American_Idol
http://en.wikipedia.org/wiki/American_Idol_(season_7)
http://www.americanidol.com/archive/contestants/season7


http://www.americanidol.com/archive/photos/?set=715